01/07
Lancia Stratos Stradale still an icon…
Lancia Stratos Stradale
There's always a bit of shenanigans when it comes to homologating cars for racing. Sanctioning bodies say you must build 500, but I'm sitting in number 91 of the 492 Lancia Stratos actually constructed. But who's counting? Certainly not me. I'm busy pulling tightly on the simple seat belt, and going through a pre-drive orientation with Tod Ruoti at Continental AutoSports.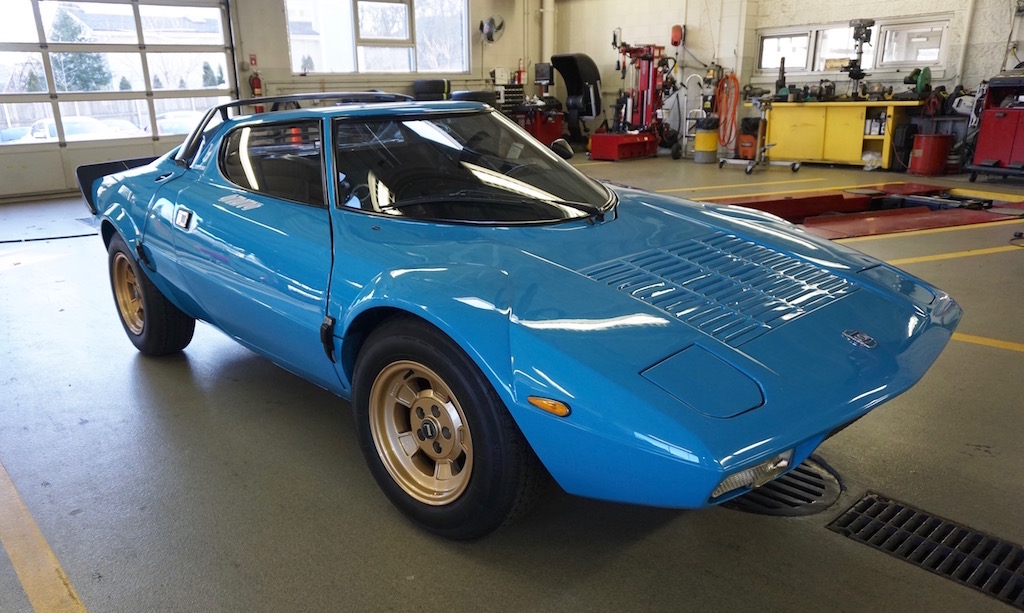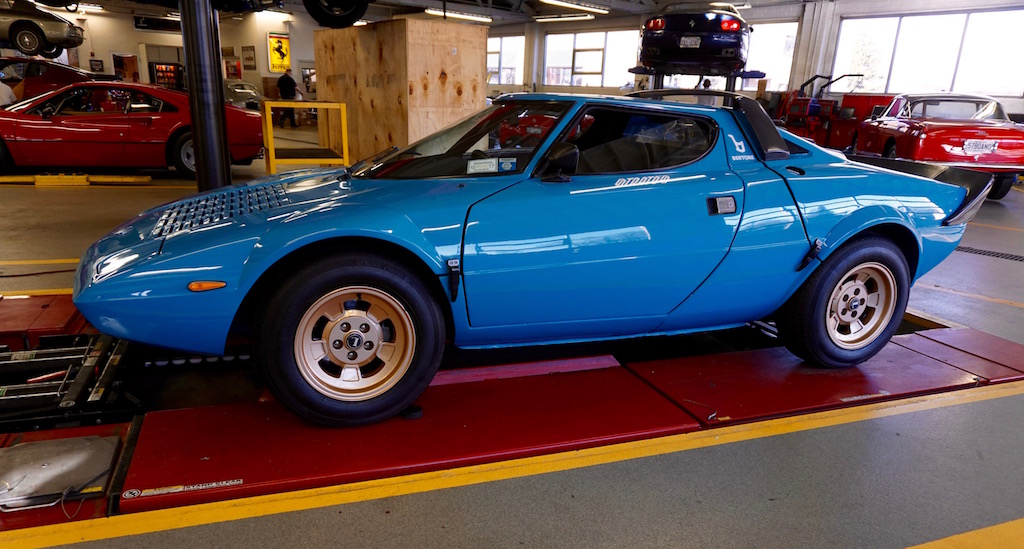 02/07
Like so many, I've always loved the Lancia Stratos shape; a wedge, an arrow. It's riveting in electric blue, purposeful, the stuff you can't take your eyes off of. In a shop loaded with vintage Alfas, vintage Astons and lots of Ferraris, nothing else here has this attention-grabbing ability of the Lancia Stratos.
03/07
At only 44 inches high and an 86 inch wheelbase (a current Fiat 500 has a wheelbase of 90.6 inches) to say it's small is an understatement, and frankly, not everyone is going to find entry easy.
04/07
Lancia Stratos Interior
Inside, the Stratos is all business down to the door mounted helmet holders, and a windshield that wraps around the car like a helmet visor, giving a totally unobstructed view from side to side.  The side window mechanism is a knob that twists to loosen.  A light, simple solution, slide the window up or down and twist to lock in place. There is no pretense about the purpose of this car. The Lancia Stratos was built to race.
05/07
Lancia Stratos Stradale HF
A key twists the 2.4Liter Dino motor to life and the noise is all Ferrari, but that took some doing.
It was no secret Lancia needed a new engine for the Stratos.  Enzo Ferrari wasn't interested in putting his Dino motors into a Lancia, but after Dino production ended, Enzo was more than happy to  get rid of all those Dino engines with nowhere to go, and Lancia took all 500.
With the Dino motor, the car was an instant success, winning the manufacturer's Group 4 rally car championship in 1974, 1975, and 1976.  Nothing could touch it until four-wheel drive became the thing.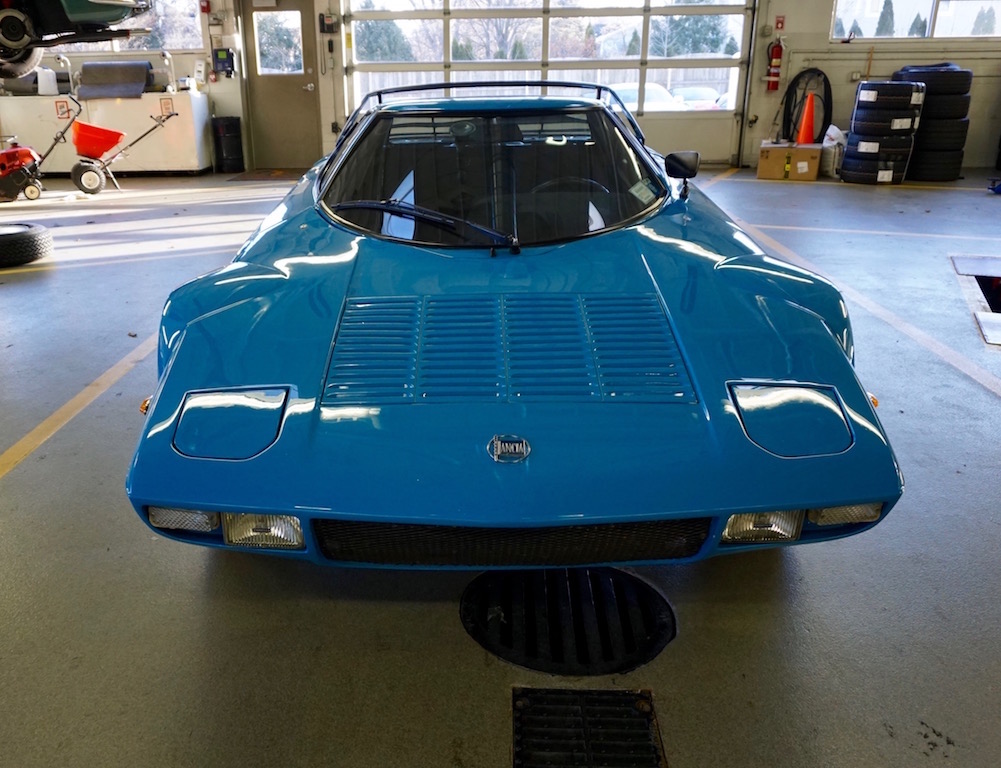 06/07
2.4L Ferrari Dino Motor
Detuned from the racing version's 280HP, the 190 HP street version I'm driving only weights a little over a ton and is capable of 5.0 seconds to 60 MPH and a top speed of 145 MPH.
Trundling around a busy suburb just isn't the place to get crazy with this car, but here and there would be an empty street or a series of corners that would provide me the slightest taste of what the Stratos was capable of.  I'm in awe of professional drivers in the 70s, feet dancing over the pedals, throwing the rear-wheel drive 280HP car from side to side.
07/07
Bertone bodied Lancia Stratos
1st is at the bottom, 2nd at the top.The shifter is tricky, but once you've been through the gears a couple of times, it becomes easy.
Produced between 1973-1978, Lancia built just 50 competition cars along side this, the Stradale (street) version.  Steel frames, fiberglass bodies, lots of these were lost to the brutality of racing and rallying, and it's hard to quantify just how many are left.
Thanks as always to Continental Autosports in Chicago for always getting me behind the wheel of spectacular rides like this Lancia Stratos.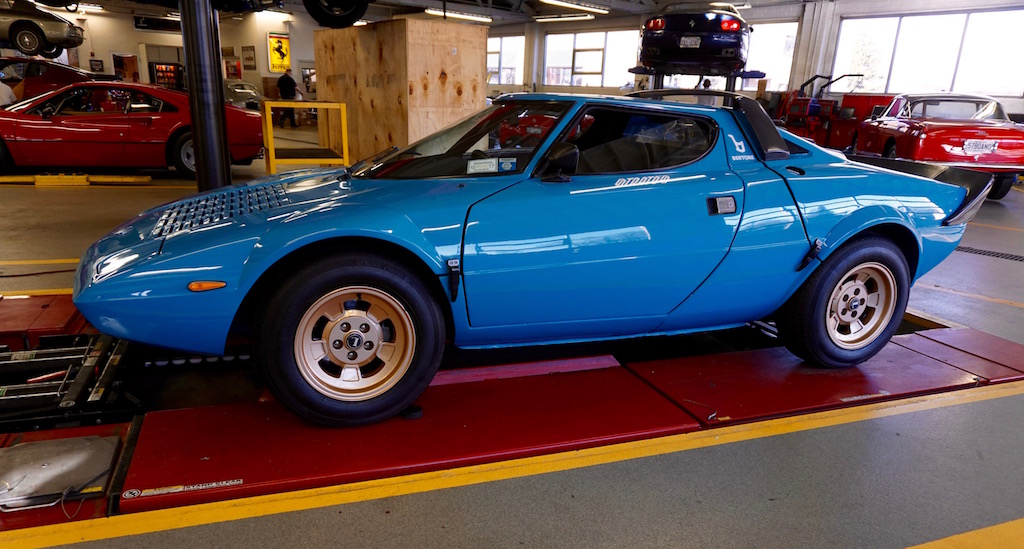 Share This Drive with Dave Story with Your Friends!
Facebook
Twitter
LinkedIn