01/06
Serious fun inexpensively…
Porsche 550 Spyder Beck Replica
I had journeyed 2.5 hours east of Chicago during an early Autumn cold snap to visit the Beck Spyder folks, makers of the Porsche 550 replica, and a meeting with father and son, Kevin and Carey Hines. The two of them have continuously upgraded what Chuck Beck started many years ago.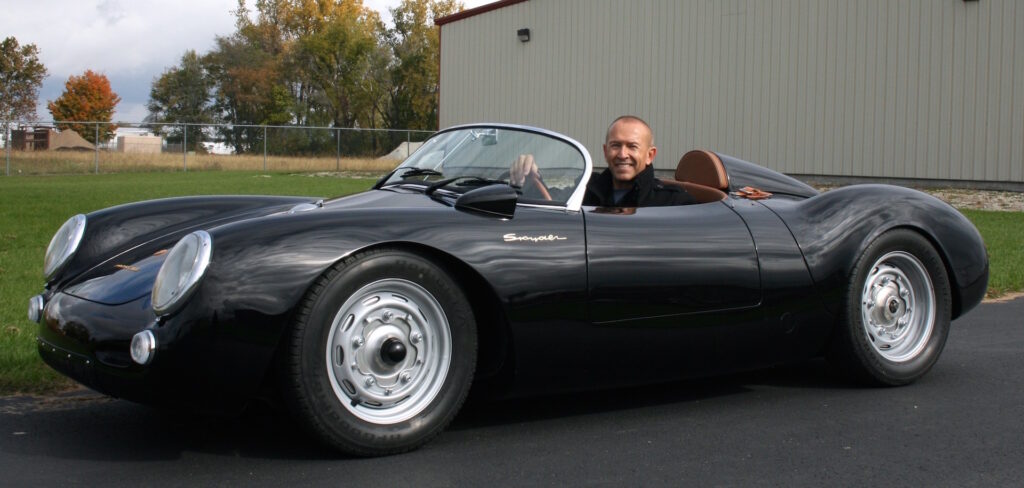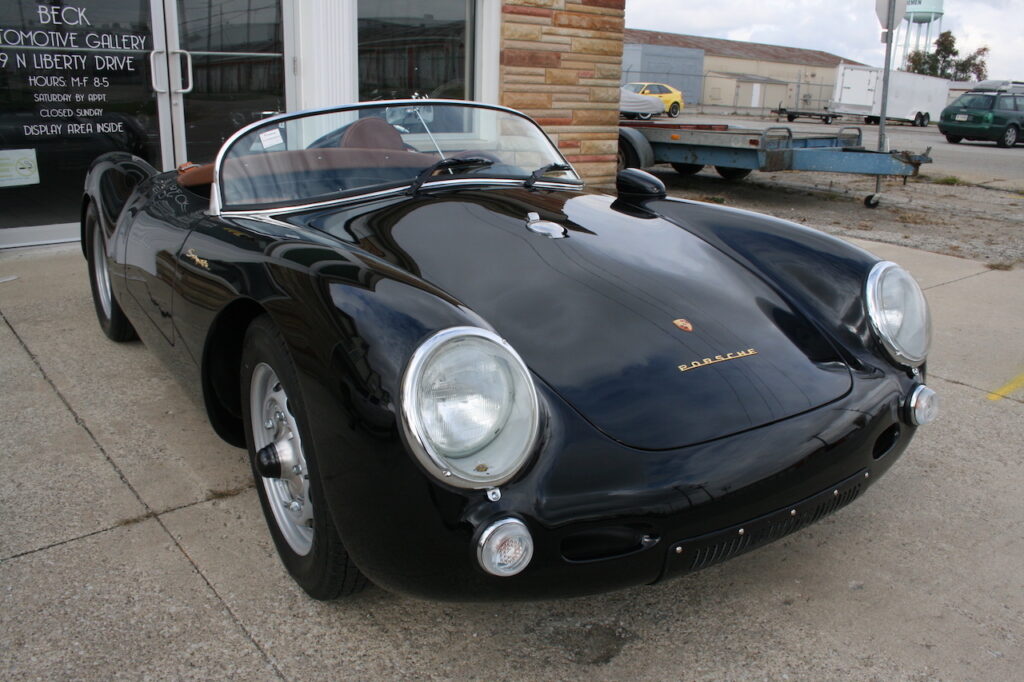 02/06
Porsche 550 Spyder Beck Replica
You remember the car; one of the original 90 built, James Dean fatally crashed the "Little Bastard", his Porsche 550, into Donald Turnupseed's 1950 Ford Custom in the California desert on September 30, 1955.
Today, the Porsche 550 is resurrected in a little town in northern Indiana. As faithful to the original as possible, Kevin, Carey and team are constructing beautiful replicas.
Pooh-pooh replicas and you entirely miss the point of experiencing why the Porsche 550 Spyder is hallowed not just by the Porsche community, but by car aficionados everywhere.
03/06
Beck Spyder Dash
Yank down on the 6 point harness straps, pull the feather weight door closed and it's a tight fit if your passenger has an unhealthy BMI.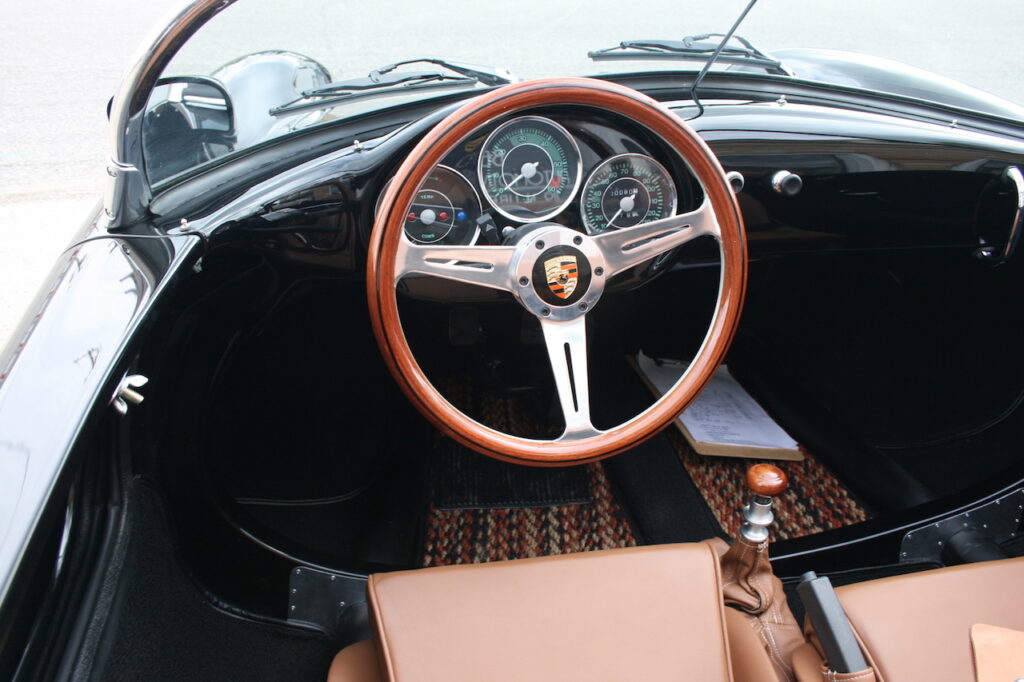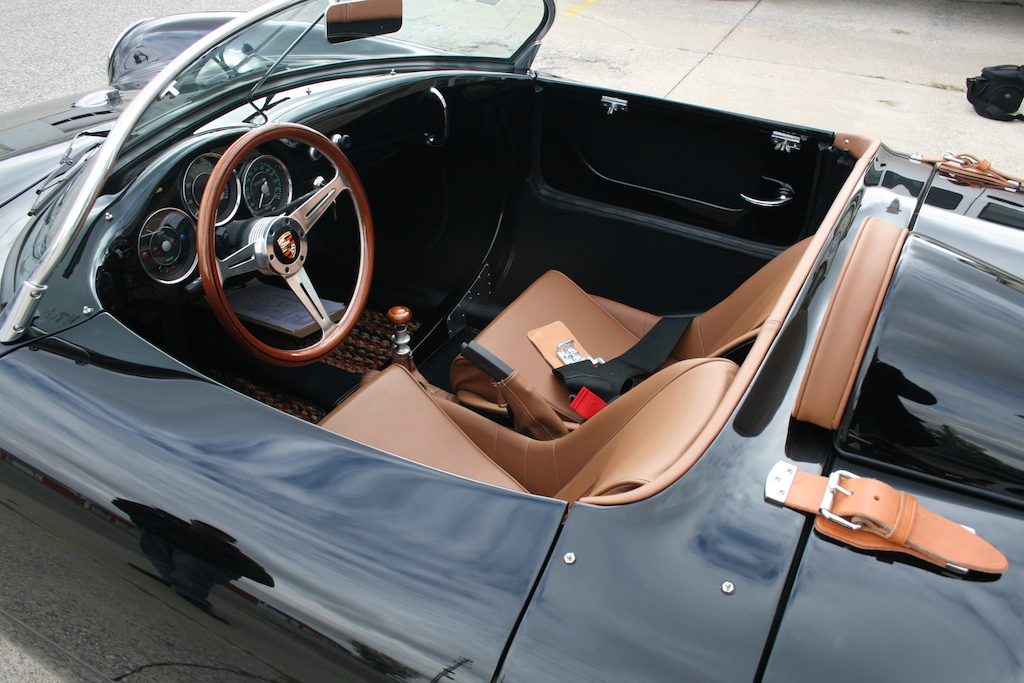 04/06
Beck Spyder Interior
The Porsche 550 Beck Spyder replica has a simple short-throw 4-speed transmission, hydraulic clutch, and a power-to-weight ratio guaranteed to thrill and the little black missile snaps my head back as the car lunges in the opposite direction. Fishtailing around a corner, the Porsche replica scrambles for traction finds its footing, and points itself down the road, driver, passenger, and car all caught up in what has slowly been removed from the modern sports car…fun.
So what's all this fun cost? I've attached a spec sheet did give you an idea.
2017 Air-Cooled Spyder Spec Sheet
05/06
Porsche 550 Spyder Beck Replica
All sorts of engine configurations are available, from souped up VW motors, to Porsche engines, and in my ride, a water cooled Subaru motor producing 180 HP.
The Stats: 1300 pounds, this one with180 HP…
0-60 around 4.5 seconds,
40 inches high, 146 inches in length (1999 Mazda Miata 48.4 inches high, 155 inches long 2070 pounds, 115 HP
To put that all in context, the originally at 1500 pounds and 110 HP was a giant killer beating up on the likes of Ferrari and Maserati
Just completed, this was a newly minted 550, begging for a little sweat, longing for stone chips, anxious for those brief bits of highway that seem to only become apparent on certain crisp Sunday mornings.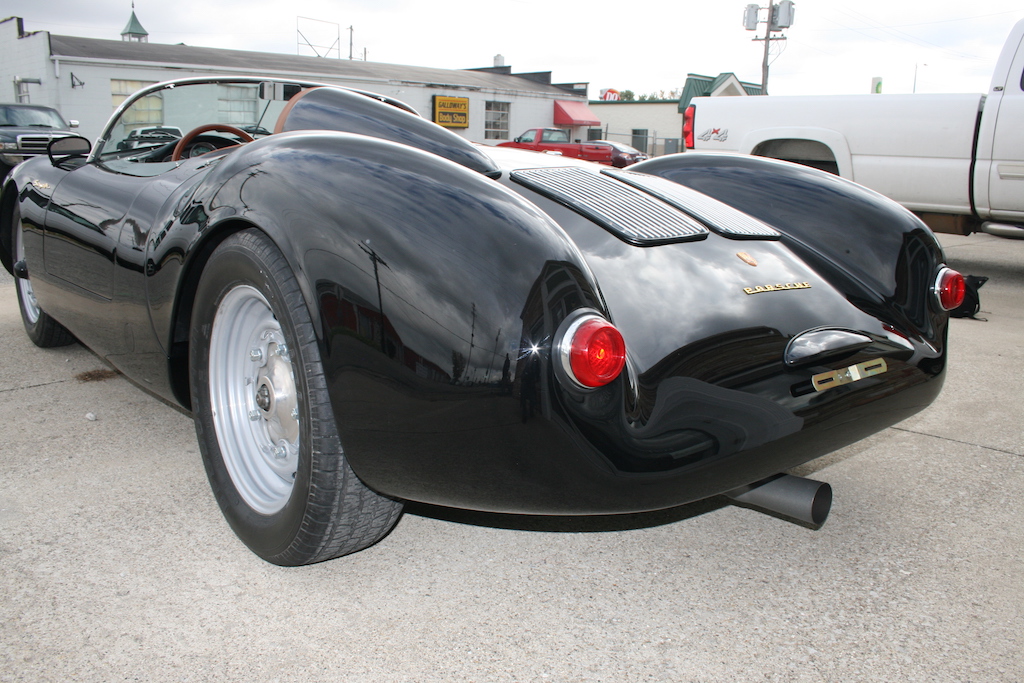 06/06
With the current price of a real Porsche 550 Spyder hovering around $4,000,000, parting with $40,000 lets you have all the thrills of the real thing without the hassle of raiding your 401K, and yes, your banker with give you a loan for one of these.
Cheap at twice the price, the Beck Spyder 550 replica is short on frills and long on experience.
Contact them below and tell them Dave Miller said hi.
Kevin Hines, Director
(574) 546-4656
Dave
Share This Drive with Dave Story with Your Friends!
Facebook
Twitter
LinkedIn