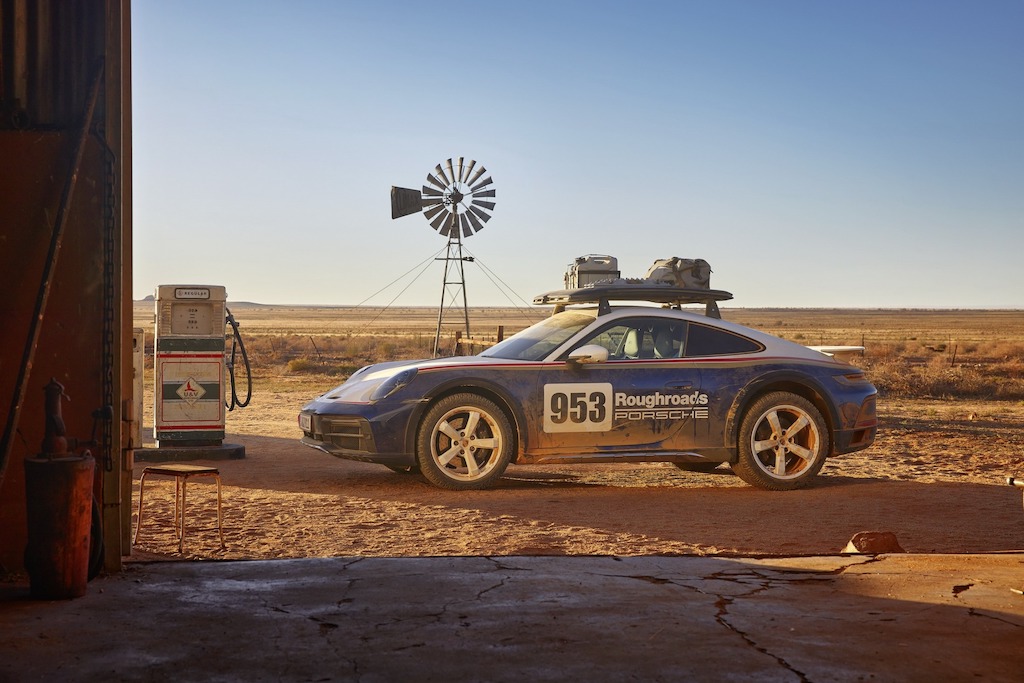 The only things left to buy with the Dakar are lip balm, sunscreen, and a satellite phone…
The guy who said, you can't be all things to all people, obviously never spent any time with the marketing division at Porsche, as they've been doing a wonderful job of that for decades. Porsche currently offers almost 90 models in various configurations, and sold 301,915 cars in 2021, all snapped up by their rabid enthusiasts.
New to the mix is the 911 Dakar. A throwback to Porsche's famous rally cars of the past, the new 911 Dakar fills a niche that few may actually use as intended, but everyone will want. Pull in with the new Dakar at cars and coffee and every will be reaching for their smart phone. It's going to be just that desirable, just that lusted-after.
A quick glance at Bring A Trailer indicates just how many yearn for a Porsche in the ultimate kick ass variety, and the new 911 Dakar is going to fulfill fantasies for the millions of people yearning to be whisked away from the humdrum of pavement. Something different, exciting, and a machine that manages to inject a bit of Sébastien- Loeb-meets-Indiana-Jones adventure.
The Dakar sits 2 inches higher than a standard 911 Carrera S, with an added 1.5 inches available using the on-board lift system, designed to easy the Porsche Dakar over any sane obstacles you'll be faced with. You are forced to leave the kids at home when running your personal Paris-Dakar stretches, as that new lift system takes up all of the space behind the driver, conveniently eliminating the need to make excuses as to why children and pets can't come along.
Everyone's gold standard, the brilliant eight-speed PDK transmission is simply the best in the business and hustles the 911 Dakar to 60 miles an hour in a scant 3.5 seconds, and top speed is limited to 150 miles per hour by the all terrain Scorpion tires.
"The 911 is the only car that you can drive from an African safari to Le Mans, then to the theatre and onto the streets of New York." –Ferry Porsche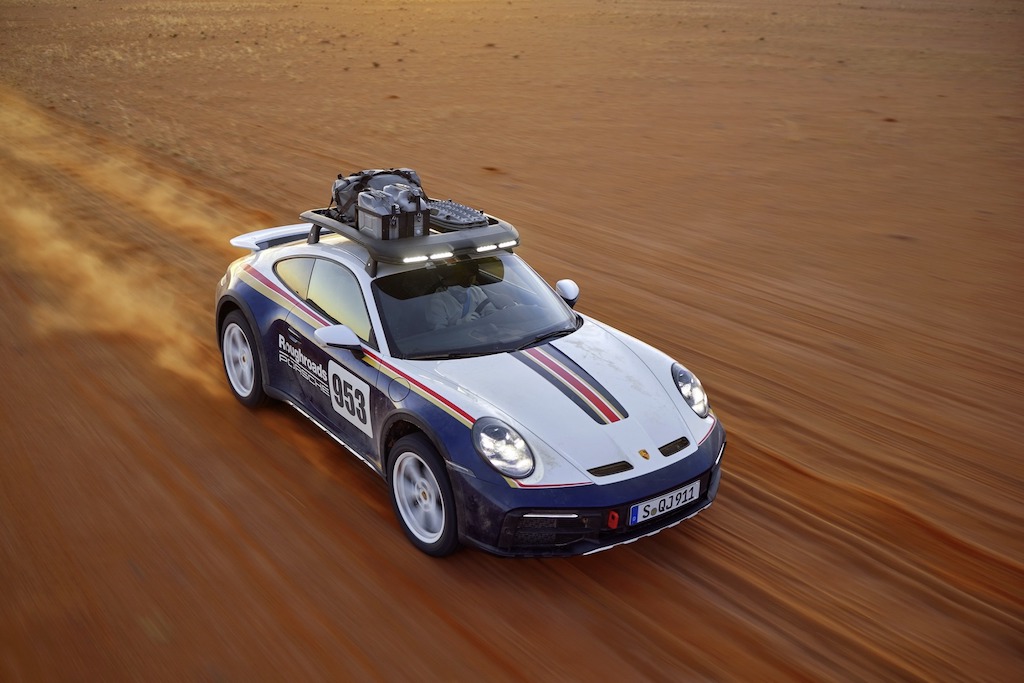 Options include a roof basket and tent, along with the Rally Design Package. Rallye Design Package starts with a two-tone paint consisting of White and Gentian Blue Metallic. This is also the first time that Porsche is combining a two-tone paint color with decorative livery. Customers can opt for a "start" number on the side of the car between "0" and "999."  Oh yes, the Rally paint job is an optional $20,000, but in for a penny…
AT A GLANCE
Pirelli Scorpion All Terrain Plus tires
Top speed limited to 150MPH due to tires
3.0L biturbo 473 horsepower 
Rally Mode and Off-Road Mode added to normal drive modes
Deliveries spring of 2023