Welcome back Ferrari!
It's been a long 50 years for the world's most famous marque. Gone from sports car racing for a half-century, Ferrari returns to endurance racing with the launch of the Ferrari 499P, spiritual successor to the 312P and 312PB that were so successful in World Sportscar Championship all those years ago. The 449P's debut will take place March 17th, 2023, at the 1000 Miles of Sebring, the opening event of the 2023 WEC. 
In 1973, Enzo Ferrari made the decision to concentrate solely on Formula One and left sports car racing in the hands of privateers in machines like the 333SP which was  underdeveloped and later left classless by rules changes. Those 333SP owners and drivers receiving only loose support from the factory, and the car rapidly became uncompetitive.
Why Now?
WEC has now ceded their erstwhile apex Le Mans Prototype 1 (LMP1) cars into the Le Mans Hypercar (LMH) and the new Le Mans Daytona hybrid (LMDh) classes. LMH teams will now design and build the entire car from a white sheet—engine, chassis, body, etc., from nose to tail.

This means OEMs can take their own street-legal hypercars and transform them into LMH competitors (as Aston Martin is considering with their Valkyrie production hypercar).

 

They can be all-wheel-drive, but are capped at 671 bhp (662 hp). LMH cars will reportedly cost 80% less than outgoing LMP1 entries, explaining why so many manufacturers are willing to return to competition. –Maxim
Though Sebring 2023 brings a long dormant force to the event with Ferrari's entry of the new endurance racer, the Ferrari 499P, the real test will come this June in France at Le Mans. In 1923 the Automobile Club de l'Ouest sanctioned the now granddaddy of all endurance races at the tiny city of Le Mans. The race was originally a 10.7 mile course that wound through the streets of Le Mans, and was named the Sarthe Circuit for the nearby river Sarthe. Now 8.5 miles in length, an overall winner will cover more than 3,000 miles in those 24 hours
This year Le Mans turns 100, and every factory entry is looking to add a century win to their racing resume. Ferrari's new endurance machine is anxious to make it's sports racing return in style, perhaps capturing the podium. In a reminder of those missing years, Ferrari's two  671 HP entries will be numbered 50 and 51. Drivers Antonio Fuoco, Miguel Molina and Nicklas Nielsen, will take turns behind the wheel of the prototype number 50 on its livery, and of Alessandro Pier Guidi, James Calado and Antonio will do the same with the number 51 car. Each driver rotates their time in the car, and by rule, no one driver can accumulate more than 14 hours total during the race.
From the announcement in February 2021 of Ferrari's return to the top endurance class up until its debut in the Hypercar class of the FIA World Endurance Championship, the 499P has passed through several development stages.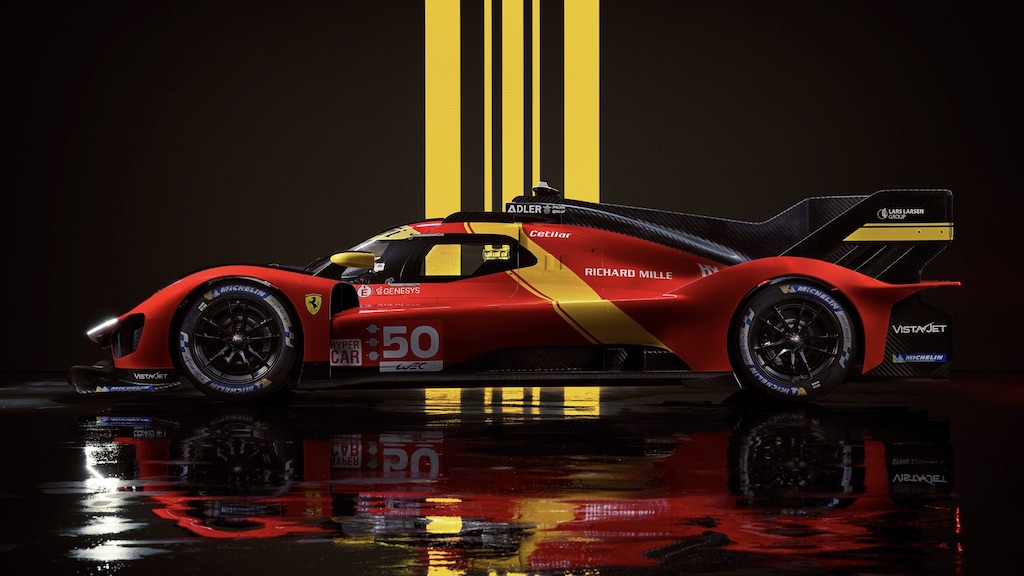 LeMans History video below.

Everybody asks…

1970

The famous "Le Mans Start" originally had drivers start outside their vehicles, run to their cars, start the engines, and drive off. This proved to be dangerous, so the procedure was changed in 1970. Drivers then began the race inside their vehicles with their safety harnesses already in place.
The Centenary of the Le Mans 24 Hours on 10 and 11 June 2023!
Le Mans 24 Hours schedule and TV coverage is being announced shortly and should be available to watch on the MotorTrend TV cable channel, and others.