Ever since Daniel Craig ordered a Vesper Martini at the card table in the 2006 movie Casino Royale, I've been asking for them as well, as the mood calls for. A smoother version of the classic Martini, the Vesper combines Gin, Vodka and the French aperitif wine, Lillet Blanc. Shaken, stirred, whatever; the Vesper Martini is a hefty four ounces of alcohol, and not to be taken lightly, or as its famous inventor writes in the original 1953 book Casino Royale: 
"I never have more than one drink before dinner. But I do like that one to be large and very strong and very cold and very well-made. I hate small portions of anything, particularly when they taste bad."

― Ian Fleming 

 
One of the very best Vesper Martinis I've ever had was in the Central California coastal town of Carmel, at a place called Bud's Bar and Restaurant  in the La Playa hotel. Supposedly named in honor of the former owner and local legend, Bud's is a beautiful place to imbibe, whatever your choice of alcohol. Mine was concocted by James. Affable, knowledgeable, his Vesper was perfect.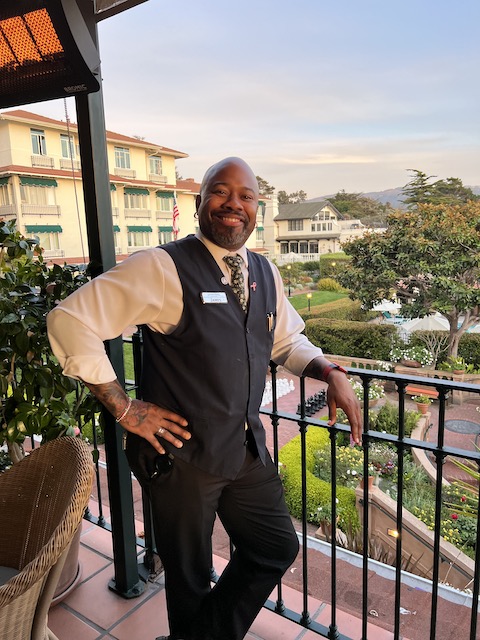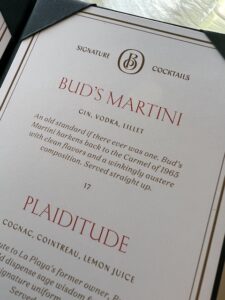 Uncrowded in late October, plan ahead carefully, as the place is especially packed during Pebble Beach Concours, and Carmel's own Concours on the Avenue, this year on August 15th, 2023.
As to that whole shaken not stirred 007 controversy, the general bartending rule is to stir liquor-only cocktails, but bartenders seldom indulge their own concoctions. Besides, you're paying for it  so have it any way you want it.
The recipe, in Daniel Craig's words…
.. three measures of Gordon's; one of vodka; half a measure of Kina Lillet. Shake it over ice, and add a thin slice of lemon peel.
One caveat, Kina Lillet is no longer available. Bartenders agree that Cocchi Americano (pronounced Ko-key Americano) is a very close substitute to Kina, and is available at most good liquor stores.
If you are interested in expanding your Martini expertise, here is a link to 15 Variations of the Martini.
And remember, James Bond downed 6 Vesper Martinis in Quantum of Solace, but none of us are 007.