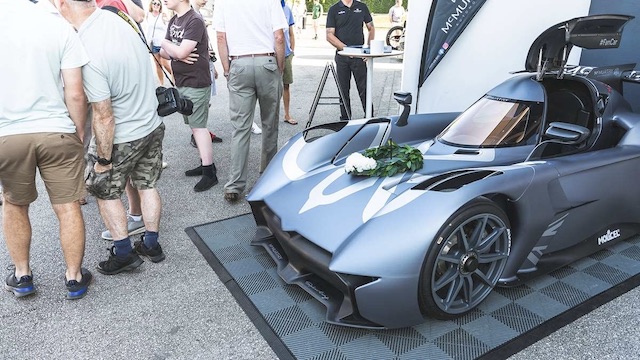 Founded by Lord March in 1993, Goodwood itself is celebrating 75 years of motor sports this summer, in 2023. Hosting some of the most sought after and exciting automobiles ever produced, Goodwood's events span almost the entire year, with the two major events, the Festival of Speed in July and the Goodwood Revival later in September.
The Festival of Speed is highlighted by The Hill Climb; a 1.16 length of tarmac designed to showcase automotive speeds across a wide range of cars, both modern and vintage, and now, electric. In 2022, the McMurtry electric vehicle broke the course record with a time of 39.08 seconds and I've attached the video of that astonishing run.
The world's greatest celebration of motorsport and car culture…a gathering together the planet's rarest and most glamorous vehicles, whilst providing a glimpse into the future.
To give some background to The Hillclimb event, I've also listed below the official results from the first event in 1993 to last year's McMurtry run.
| | | | | |
| --- | --- | --- | --- | --- |
| 1 | 1993 | | | 0:56.30 |
| 2 | 1994 | | | 0:47.80 |
| 3 | 1995 | | | 0:46.06 |
| 4 | 1996 | | | 0:45.00 |
| 5 | 1997 | | | 0:47.30 |
| 6 | 1998 | | | 0:48.30 |
| 7 | 1999 | | | 0:41.60 |
| 8 | 2000 |  Martin Stretton | | 0:45.05 |
| 9 | 2001 | | | 0:48.26 |
| 10 | 2002 | | | 0:47.40 |
| 11 | 2003 | | | 0:42.90 |
| 12 | 2004 | | | 0:49.26 |
| 13 | 2005 | | | 0:47.96 |
| 14 | 2006 | | | 0:49.51 |
| 15 | 2007 | | | 0:53.78 |
| 16 | 2008 | | | 0:44.19 |
| 17 | 2009 | | | 0:44.40 |
| 18 | 2010 | | | 0:47.15 |
| 19 | 2011 | | | 0:48.52 |
| 20 | 2012 | | | 0:46.46 |
| 21 | 2013 | | | 0:45.95 |
| 22 | 2014 | | | 0:44.60 |
| 23 | 2015 | | Subaru Impreza "Gobstopper II" | 0:44.91 |
| 24 | 2016 | | Subaru Impreza "Gobstopper II" | 0:46.23 |
| 25 | 2017 | | | 0:46.13 |
| 26 | 2018 | | | 0:43.86 |
| 27 | 2019 | | | 0:42.32[48] |
| 28 | 2021 | | | 0:45.01 |
| 29 | 2022 | | | 0:39.08[49] |