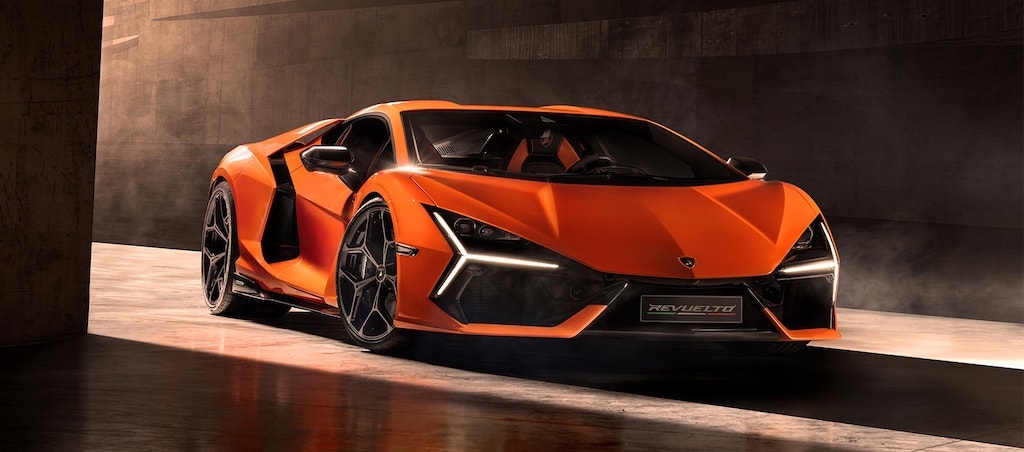 Before Lamborghini goes all-electric in the next four or five years, their latest creation, the Lamborghini Revuelto, and first hybrid has been revealed replacing the Ferrari SF90's top spot as the hyper-car hybrid king of the hill in terms of horsepower.
Media, celebrities and invited international Lamborghini owners were the first to be presented to the new V12 hybrid at the Emissions Technology Center in Lamborghini's factory in Sant'Agata Bologna, Italy.
Along with other board members, CEO Stephan Winkelmann introduced the Lamborghini Revuelto, discussed the design and performance of the new Revuelto, while hinting at the soon to come all-electric future for Lamborghini.
"With the presentation of the Lamborghini Revuelto we start writing a new chapter in our considerable V12 history," said Stephan Winkelmann, Lamborghini Chairman and CEO. "This is not only a landmark moment, but one that everyone working at Lamborghini takes pride in, and it is a privilege to welcome media, owners, our dealers and important guests to witness the Revuelto's premiere at our home in Sant'Agata Bolognese."
Its 1001 HP is delivered from an entirely new twelve-cylinder combustion engine revving to 9,500 RPM's, in tandem with three electric motors powered by a lithium-ion battery pack supporting a fully-electric drive mode, but with only a very limited 6 mile range. All this power is tied to a new 8 speed double-clutch gearbox. 
813 HP plus those 3 electric motors, two for the front wheels and one at the rear, makes it the most powerful hybrid sports car to date. Interestingly, there is no traditional reverse gear. Reversing is handled via the rear electric motor, and reverse isn't connected directly to the engine.
Also interesting, Revuelto means "scrambled" in Spanish, but has no direct translation in Italian.
Deliveries will start in the last quarter of 2023.
And you just know a Ferrari SF90 Speciale with 1,002 HP is already on the drawing board.